Bar & Restaurant Kristiania
Unlimited Gastronomy
All options are on the table when it comes to our culinary concept. For refined nights there is Kristiania "Das Restaurant with Malcom Praun", for adventurous days there is a picnic in the snow, for I-feel-sehr-Austrian days there is the Kaminzimmer, for keeping things cool there is "Die Rote Bar" and our terrace with Othmar's Cocktail Bar & Lounge…and for everything in between there is the possibility to have what you want, wherever you want it! Our chef Malcom Praun challenges you with a culinary feast full of contrasts. Blending traditional alpine and exotic Argentinian cuisine for a taste bud workout. The only things that stay the same are the artisanal and like minded producers who we have been collaborating with since the 60's, the feeling of privacy, the cosy environment, and that view that would make your jaw drop even if the cuisine wasn't as delicious as it is.
Breakfast - whenever.whatever
Our most flexible meal of the day (or night) will have your imagination run wild. Will you have breakfast in bed? In one of the lounges on the terrace? Or perhaps enjoying the view in the restaurant with your courses of choice.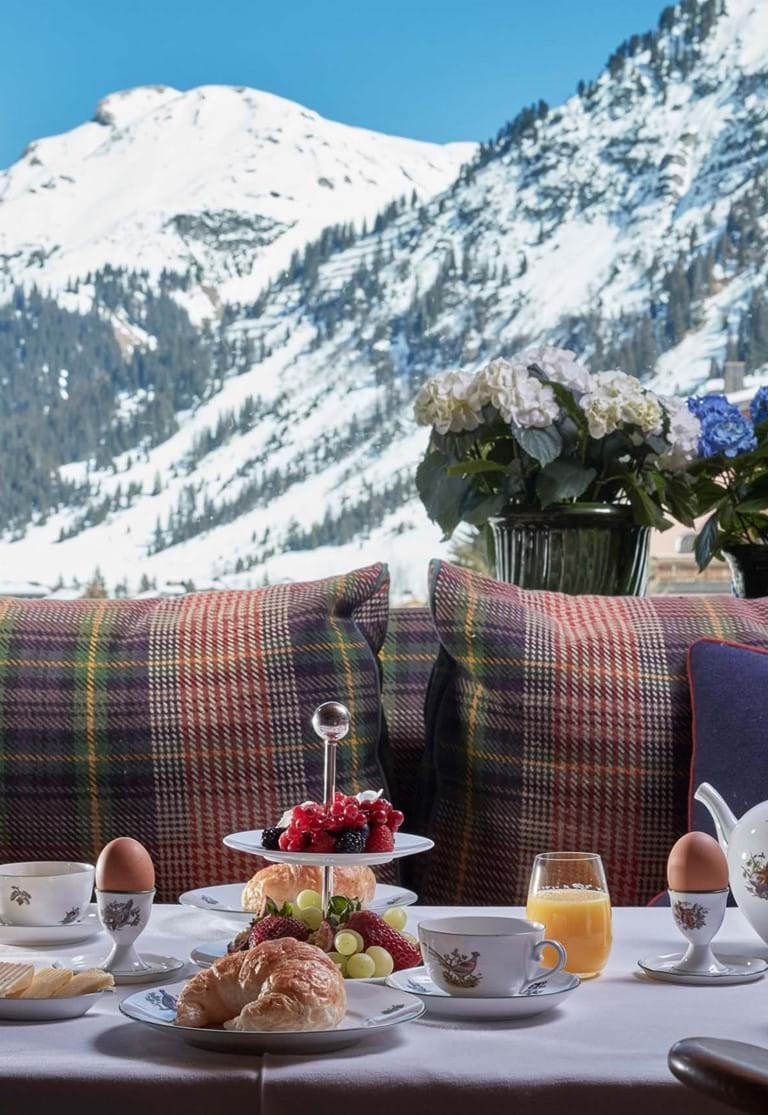 Never skip lunch
It doesn't matter how heavy your breakfast was, you'll never want to skip lunch at Kristiania. Perhaps you can still squeeze in a Côte de Boeuf for two or a butter schnitzel? A little lighter? How about a local fish or vegetables of the season? Well then, at least a dessert or some local cheese! Whatever you choose, the restaurant's menu will include an enchanting view of Lech and a style that blends Austrian and Argentinian cuisine.
An extra slice of cake?
Maybe you've been on the slopes or maybe you've just finished the dessert you had for lunch. Either way, our afternoon tea and cake is a ritual that every guest looks forward to.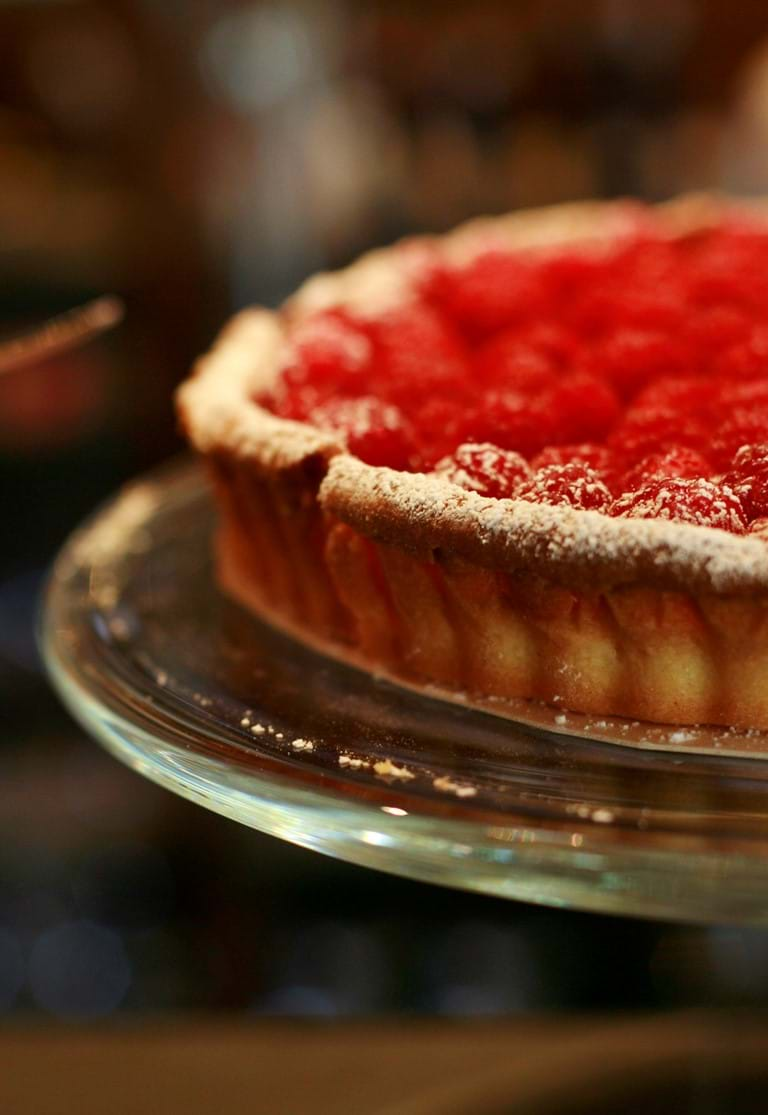 Come over for dinner
So, give your taste buds a workout with a culinary feast of contrasts. Our chef Malcom Praun blends alpine cuisine with exotic Argentinian flavours at Kristiania "Das Restaurant", serves "Austria in five courses" at our Fine Dining restaurant where classics and modern Alpine accents intermingle or will you get carried away by "A feast of Asado" at the Kaminzimmer which takes you back to the Austria in the mid-century.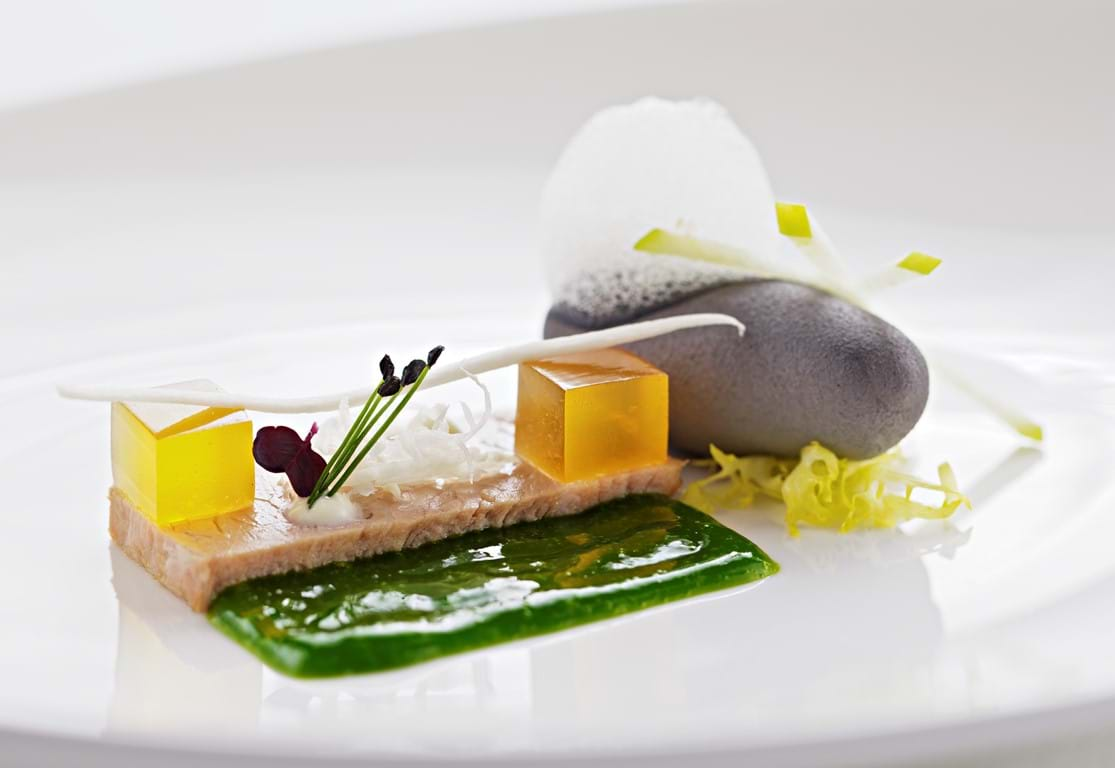 What about drinks?
We would never forget these and neither should you. When you come over to our house, premium champagne, wine, cocktails and a lot more are longing to be tasted. So, come down to Othmar's bar, ask for a drink in the drawing room or head down to the cellar and indulge…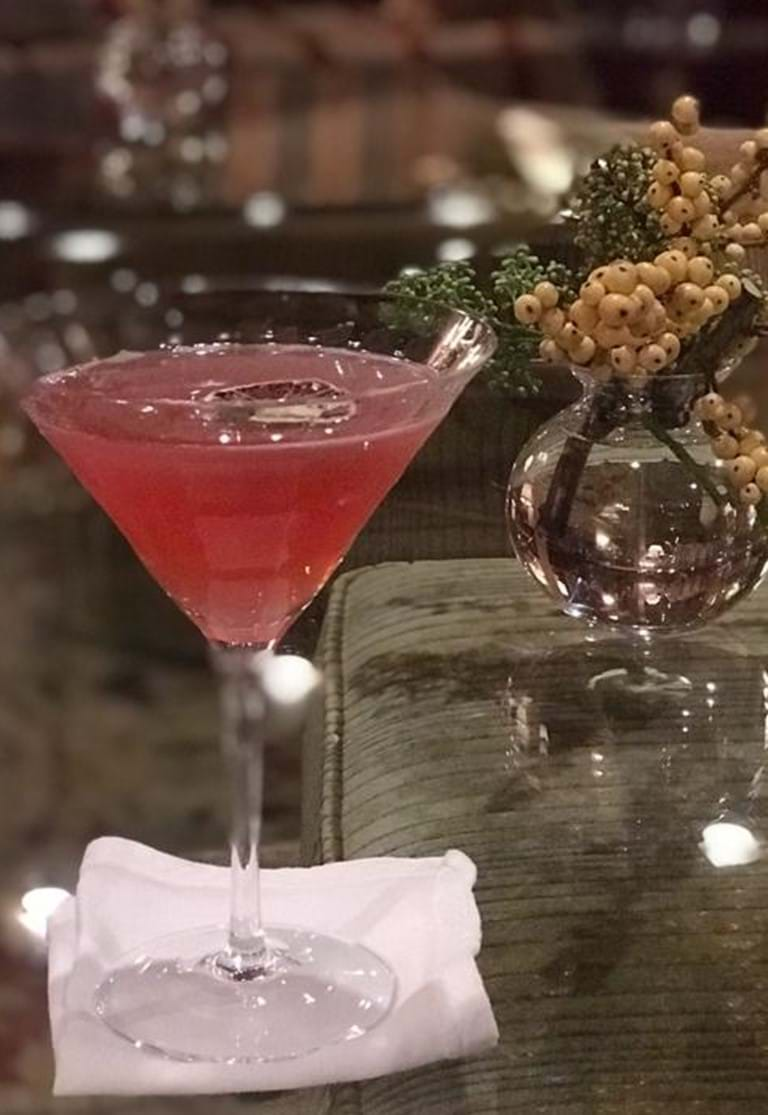 Gastronomic private experiences
Picnic in the snow

Here's an unconventional experience for the adventurous pleasure seekers desiring a romantic touch. Watch the awe-inspiring Vorarlberg Alps from a reclining position on thick Moroccan rugs, wrapped in fur blankets. You'll be sure to stay warm with a fire bowl beside you and some delicious cuisine and Champagne inside you!
 

The Grand Finale

Soiree Gastronomique in total privacy. Our secluded, top floor owner's suite is surrounded by nothing but privacy with a marvellous view on untamed nature; exclusively yours for an evening of joy. It's magical: just you, our chefs, snow flakes wheeling in the sky and delicious products from our like-minded suppliers. Take a bite, sip a perfectly crafted cocktail, tuck into freshly-made food, lounge on the sofa, start an inspiring conversation… whatever, really. It's up to you.