Bar & Restaurant Kristiania
Flavours
Our cuisine will have you coming back for more!
All options are on the cards when it comes to our culinary concept. For refined nights there is Alpine Fine Dining, for adventurous days there is international cuisine, for I-feel-sehr-Austrian days there is the Kaminzimmer, for keeping things cool there is Othmar's Cocktail Bar in summer… and for everything in between there is the possibility to have what you want, wherever you want it! The only things that stay the same is the timeless touch of our chefs, the artisanal producers who we have been collaborating with since the 60's, the privacy, the cosy environment, and that view that would make your jaw drop even if the cuisine wasn't as delicious as it is.
Something for everyone's taste
Breakfast. whenever. whatever.

Our most flexible meal of the day (or night) will have your imagination run wild. Will you have breakfast in bed?

Never skip lunch

It doesn't matter how heavy your breakfast was, you'll never want to skip lunch at Kristiania. Perhaps you can still squeeze in a butter schnitzel? A little lighter? How about oysters, salmon or trout? Well then, at least a dessert or some local cheese! Whatever you choose, our menu will include an enchanting view of Lech and a style that blends Austrian and international cuisine.

An extra slice of cake

Maybe you've been on the slopes or maybe you've just finished the dessert you had for lunch. Either way, our afternoon tea and cake is a ritual that every guest looks forward to.
Kristiania Das Restaurant
Kristiania Das Restaurant
At first, it's the view that will delight you. Lech chocolate box style houses and its church are so close you feel you could reach out and touch them. In the evening contemporary art in contrast with the soft glow of a sea of candles sets the atmosphere.
These days, so many restaurants bang a big drum about their "local, seasonal and fresh" approach. Honestly, why would you eat any other way?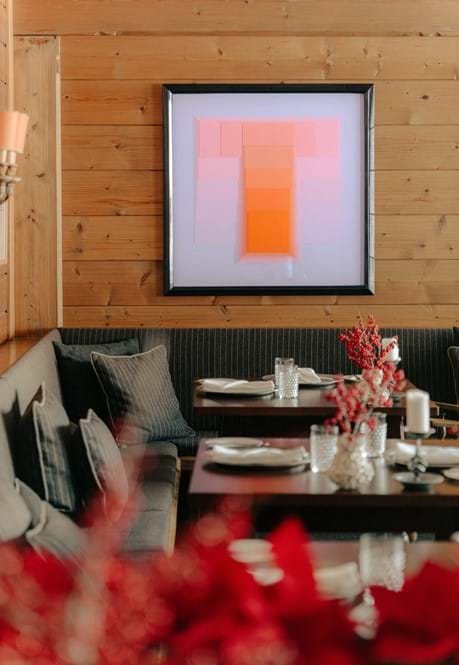 Dining
Kristiania Fondue Restaurant
Kaminzimmer
When paradise is a Fondue and a glass of red wine. 
The cozy Kaminzimmer is as easy and effortless luxury. In the mood for a Fondue - Swiss style? Craving a Club sandwich? Pining for Fondue Chinoise or Raclette? We can do that and more, while you dream away in mid century atmosphere in front of the open fire place.
But even here in Kaminzimmer we cut no corners. You'll find special a cheese composition in the Fondue that took our chefs months of patient experimentation to perfect.  And if you're curious about the Austrian wine scene – just say the word. It's your vacation.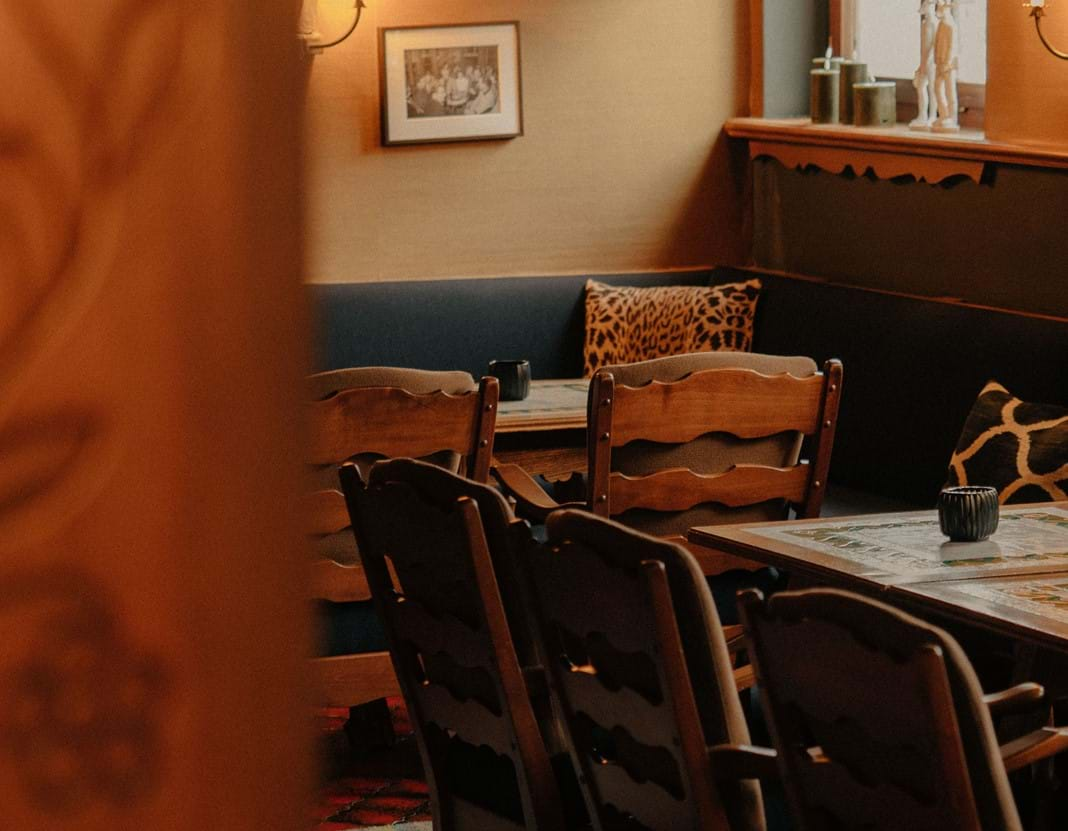 Cocktails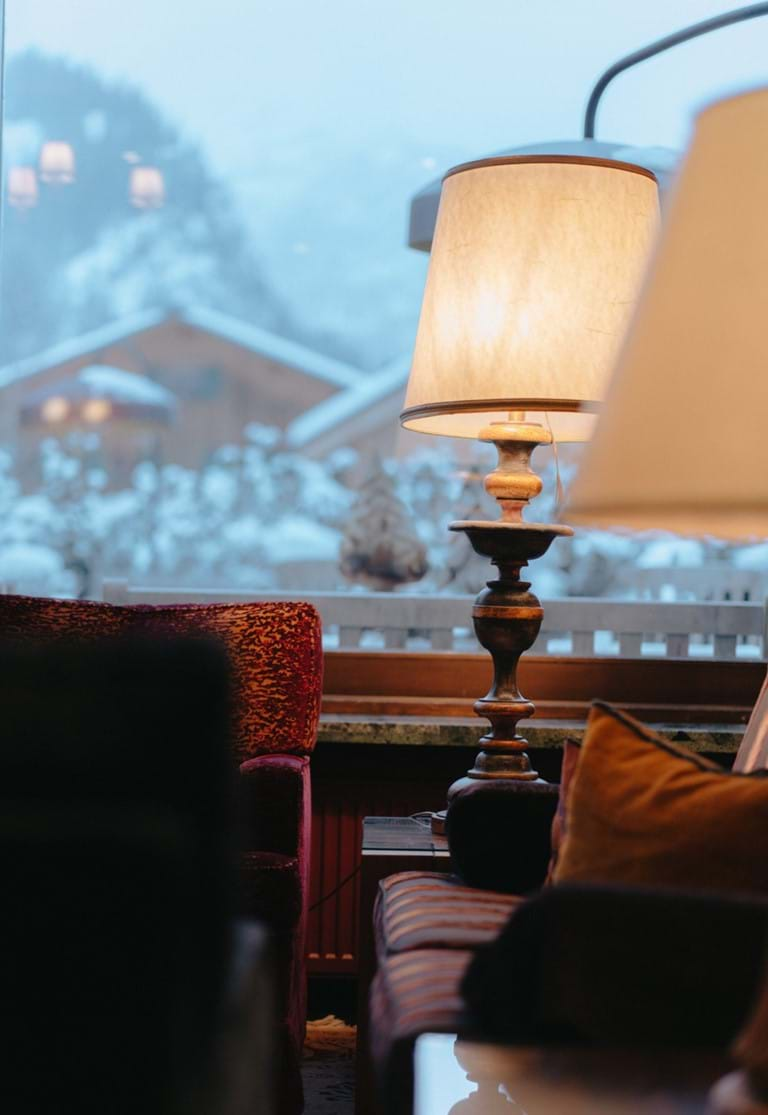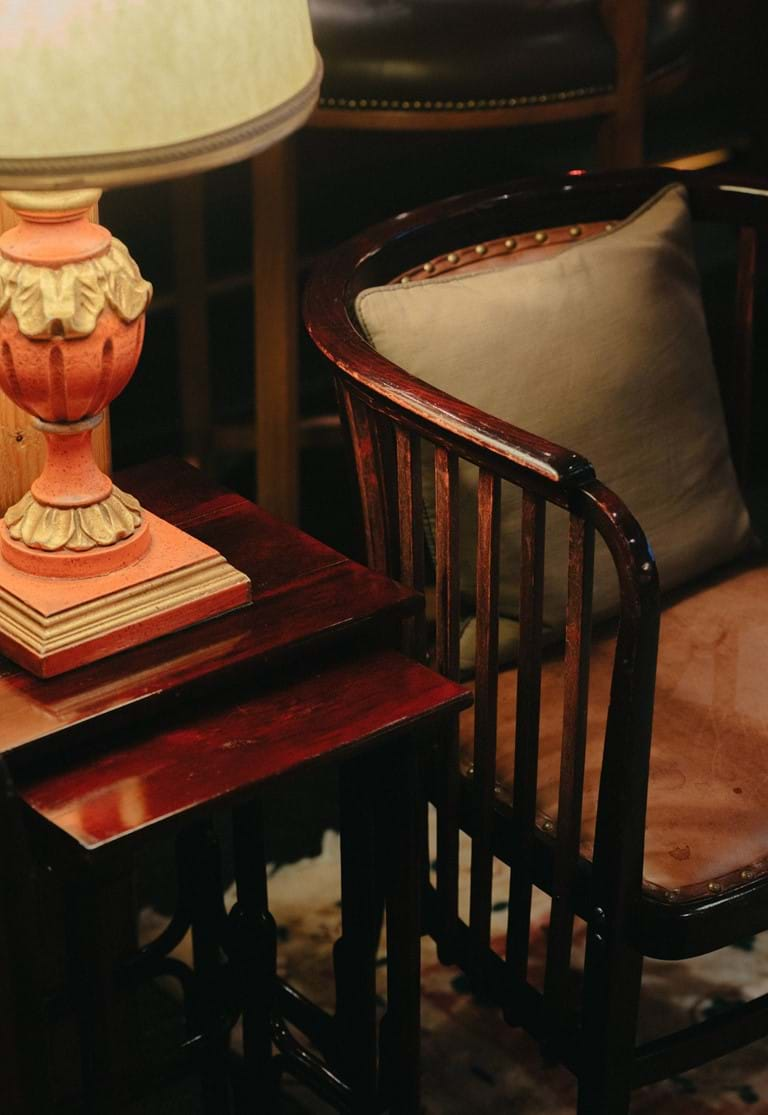 Kristiania American Bar
The Rote Bar
Whatever happened to classic and discreet hotel bars?
Hiding in plain sight, the "Rote Bar" nestles in the heart of the Schneider Family's original designed chalet that became a hotel in 1968. It's a real insiders' bar, a shrine to classic cocktail culture. Dedicated to those who have spent a liftetime chasing the ultimate Manhattan or the non plus ultra Negroni, the bar's name pays tribute to its colour. A rich and elegant burgundy with a wonderfully aged but glamorous feel.
Don't miss the cocktail bar take over by Gery Tsai from Tür 7 in Vienna in February 2024. Stay tuned!
Gastronomic experiences
Culinary experiences that will blow your mind

Easy, we have something for whatever you're into in winter or summer. There's a private dance club for those who like it hot, snow or mountain meadow picnic and snowshoe or mountain hikes for those who like things either icy or cool and other experiences that can be designed for your wildest fantasy.

Picnic in the snow or on a mountain meadow

Here's an unconventional experience for the adventurous pleasure seekers desiring a romantic touch. Watch the awe-inspiring Vorarlberg Alps from a reclining position on thick Moroccan rugs, wrapped in fur blankets. You'll be sure to stay warm with a fire bowl beside you and some delicious cuisine and Champagne inside you!
 

The Grand Finale

Soiree Gastronomique in total privacy. Our secluded, top floor owner's suite is surrounded by nothing but privacy with a marvellous view on untamed nature; exclusively yours for an evening of joy. It's magical: just you, our chefs, snow flakes wheeling in the sky in winter or sun rays dancing in summer and delicious products from our like-minded suppliers. Take a bite, sip a perfectly crafted cocktail, tuck into freshly-made food, lounge on the sofa, start an inspiring conversation… whatever, really. It's up to you. 

The secret winter garden

A garden pop up in retro style. Quirky, different and full of surprises...

A mountain garden à la river. To Dream. Quirky, different and full of surprises, our garden invites you to enjoy long winter afternoon on a chaise-longue and coveted in duvets. Let your mind wander and treat yourself to "good vibes only" during lazy winter days.

Don't miss our legendary "be different" picnic in pur pop up style - tout privé.